Guitarist, composer, educator and producer Paul Speidel has been a prominent beacon on Boston's extensive blues/jazz music scene for more than two decades--in fact--2014 was The Paul Speidel Bandís 20th Anniversary Year…and thatís no small achievement! Guitarists come and go all the time in Boston--a city of major-league music schools--but Paul belongs to that small group of top players whoíve dug in their heels here and insist on keeping blues and jazz, in their various permutations, vital and probing for the long haul.
The foundation of Paul's guitar chops has its roots in the sound of electric blues, which was heard on the radio in his hometown of Chicago--frequently on rotation on all the major stations during his formative years. Paul's mother, a classically-trained pianist who loved playing gospel hymns, forbad rock & roll radio when he was a child, but Paul would sneak and listen to it while she was at choir rehearsal at the church where Paul's father was the pastor. Following two years of failed clarinet lessons, Paul eventually won the battle and switched over to guitar, launching his first band at age 12! Set against the heavy reverberation of early '70s blues and rock, the steaming guitars of Jimi Hendrix, Jimmy Page and Eric Clapton, Paul too discovered earlier legends of the blues and eventually also added Miles Davis and jazz to the heady mix.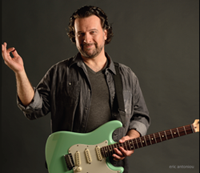 One of Paul's earliest influences was local legend Frank "Son" Seals, whose dirty tone and searing riffs torched many a South Side tavern reaching a global audience through Alligator Records. Another special encounter was at his high school where Lonnie "Guitar Junior" Brooks, a Louisianan who had mastered the world-famous Chicago blues style after moving to the Windy City in the early 1960s, came to play. Like many other teenagers studying guitar, Paul immersed himself in the blues-rock stylings of Jimmy Page, Jeff Beck and their peers as well.
Paul began working a wide variety of paying gigs by the time he graduated high school. He received formal musical training at Augustana College in Illinois and supported himself by performing and teaching privately during his quest for his B.A. degree. After graduation from Augustana, he continued his studies at University of Northern Colorado, where he also became a teaching assistant in the school's award-winning Jazz Studies Department. While earning his Masters of Music in theory and composition, Paul freelanced in commercial music, including a three year stint playing tenor banjo in a Dixieland band!
Then, after kicking around in a few bands and a stretch in the Denver-area music scene, Paul moved to Boston in 1990 to be with a new girlfriend and in Boston, his career took flight. Within a year, he began teaching blues and jazz in the public school system and was freelancing as a studio producer and live sound engineer, mixing live shows for local singer/songwriters like Dar Williams and Jim Infantino of Jim's Big Ego.
Beginning in November of 1994, Paul produced and hosted The Blues Showcase Series in Newton, Massachusetts, attracting top blues players to the informal setting of an upstairs room at a local venue called Yerardi's. These first-rate performances ran successfully for five years and introduced major local and nationally known talent such as Jay Geils, Duke Robillard, James Montgomery, Paul Rishell and Annie Raines, David Maxwell, and Shirley Lewis to the Boston suburb.
In addition to being a valued performer on stage with these artists, Paul has also contributed his blues and jazz stylings to the music of such luminaries as Patti Page, Howard Alden, Toni Lynn Washington, David Maxwell, Michelle Wilson, Weepin' Willie, and many others. Paulís main passion remains performing with his own Paul Speidel Band--entertaining thousands--at the many well-known Boston area venues like Ryles Jazz Club, Johnny D's, Harper's Ferry, Tam O'Shanter, Plough and Stars, Bull Run, The Milky Way, The Kinsale, The Regent Theatre, Willow Jazz Club, Kirkland Cafe, Midway Cafe, 1369 Jazz Club, Bob The Chef's, The Attic and many other historic clubs, coffeehouses, concerts and festivals throughout New England with several side trips to Denver and Chicago. Paul's band also opened for Gibson Signature Artist Johnny A, for John Lee Hooker, Jr. at the Nashoba Valley Blues-N-Brews Festival and for the great Luther "Guitar Junior" Johnson.
In 2004, Paul released his first CD, The Paul Speidel Band (Blues Extensions, Vol. 1). That disc was followed in 2005 with Guitar Bass Drums (Live, Vol. 1). In 2009 he and his band released Playing Stages (Live, Vol. 2) and in 2010 his latest release, Retrorocket (Blues Extensions, Vol. 2) received three-and-a-half stars in Downbeat Magazine.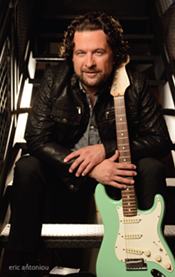 A BMI-affiliated writer, all four Paul Speidel Band discs feature Paul's original compositions. Paul was also a semi-finalist (2006) and finalist (2008) in the Boston Blues Challenge, an annual event put together by the Boston Blues Society. His bandís new EP Gratitude celebrates their 20th Anniversary with added instruments (a horn section, keys and Blues harp).